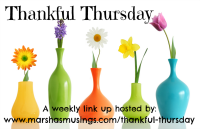 Last Thursday of August, another month has zoomed by. It's the first week of school so we are adjusting. It's been harder for me than I thought it would. The days go by so fast and then it's time to pick up Caleb. The evenings have not been stressful, he's had minimal homework and we work to get things ready for next day (clothes out, lunch made, etc). I love the days with Titus and am enjoying his smiles. And I was thankful we made it through a grocery shopping trip of just me and him this week. It's such a huge adjustment for me without Caleb here. He helped so much, and it just feels so different to try to figure out stuff. We will adjust I know.
This week I'm thankful for...
~ my husband making Rice Krispy treats for me. And we got to have lunch this week. Oh and a big one is his out of town meeting was cancelled for next week.
~ hearing my boy's stories about 6th grade. He's figuring out his schedule and new teachers and liking it so far.
~ holding my baby boy when he falls asleep and hearing him in his bed when he wakes up with sweet noises. Then when I pick him up and he smiles so big, it just makes me happy!
~ planning and figuring out meals for this week. It has helped so much to have Caleb's lunch made the night before. I've had a break from doing that for the last several months. I try to pack enough variety to fill him up, but he's always hungry when he gets home! I miss having his help with supper, but we are keeping it easy for now so I don't have to worry with preparations. Hooray for the crock pot!
~ answers of prayer for a friend's dad who has been in ICU with blood clots in his lungs.
~ doing a family lesson time using ideas from
the Seeds Family Worship blog.
This week's verse is Ephesians 2:8. It's been great for me to read this and think about these words and focus on the gift we have been given.
"For it is by grace you have been saved, through faith–and this not from yourselves, it is the gift of God."
Have a day of blessings!