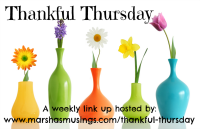 This week has been less emotional for me than last week, and I feel we are getting into the groove of the new school year.
Today I am thankful for...
~ my husband being home this week since his business meeting was cancelled.
~ my big boy sharing his feelings with us. It always takes him a little bit to get back into the swing of things after summer. This year has been such a big change for him to move to a new campus so I wondered what he'd be feeling about it all.
~ my baby boy making so many sounds. Twice he has said "Da" when Daddy came up. When he wakes up from nap he will make uh uh uh sound and I think he's saying up.
~ the niceness of the morning. I like to walk through the yard with Titus. He likes the wind chime and flowers.
~ having a cake to eat....white cake with chocolate icing.
~ both of my boys liking books. It is so cute to see them reading together. Titus already loves us to read to him.
Our verse this week is Philippians 1:6:
"...being confident of this, that he who began a good work in you will carry it on to completion until the day of Christ Jesus."
Have a day of blessings!