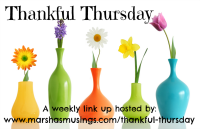 It's August in Texas which means it is hot! So I am extra thankful for our cool house and vehicles today. I do not know how people work daily out in the heat. I'm glad I do not have to do that!
This week I am thankful for...
~ going to a funding announcement in support of my husband this week for a project he worked on.
~ the talents and abilities of my big boy. He is quite the artist. He did a painting this week of a landscape scene he thought of. He did a good job with it. He thinks he may enter it in the fair.
~ our baby boy sleeping longer stretches. I get up and check him when he sleeps longer. He slept 9:30--6:45 one night this week. He has been rolling into the edge of the bed and that wakes him up usually. I enjoy those times together in the night though when I get up and feed him. I know I will miss that when he no longer eats in the night.
~ my memories of my first pregnancy and miscarriage and how that changed me. August 6 was my first due date. I learned so much from that loss and am thankful for those 10 weeks I had with that baby.
~ a sweet magnet I found on my fridge from my Mom. My Mom had placed it there when she was here, and I didn't see it until the next morning. It was so sweet and made my day!
~ good check-ups at the doctor and dentist this week for Caleb plus getting those over with before school begins.
Have a day of blessings!