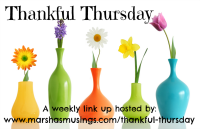 I guess it's been a pretty normal week. We've been home just enjoying the days of summer and not having much planned.
This week I'm thankful for....
~ my husband taking care of things like vehicles to the shop.
~ reading at night with my big boy. We had gotten out of the habit after Titus was born and now have started again. I chose a book called
Fish in a Tree
which I saw recommended on a blog. It's a good story, and we are both enjoying it.
~ watching my sweet baby boy have fun in his bath. He loves taking a bath and gets excited about it apparently. He kicks and kicks his legs and just seems to enjoy the water so much.
~ lazy days of summer. It's been nice to not have to be anywhere at a certain time most days. And getting to do little fun things with my boys like going to the library and stopping at a bakery for cookies/cupcakes and another day for froyo.
~ money in savings for unexpected expenses. We've had a couple of those situations this summer, and I'm glad we can pay for it.
~ finding a place to go for our vacation. I usually plan a vacation in April or May but did not this year since I had a baby then! I figured we'd want something closer to home this year instead of traveling to another state like we did last year. I am looking forward to it and think we will have a nice time relaxing and being together.
Have a day of blessings!