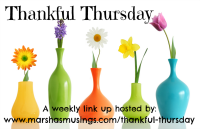 It's a hot Thursday here in Texas! There is so much bad news and negativity everywhere you look. Take time to focus on your blessings instead of the negativity.
What are you thankful for?
Here's my list....
~ having a husband who supports me and helps me.
~ my big boy have fun out fishing. He was so excited to go, and I enjoyed seeing the pictures of his and entire and one of his catches!
~ seeing our baby boy learn new things. It seemed like a switch was flipped, and he just started rolling over to his belly Saturday. It's so cute. He does it pretty much all the time now. Also he's cute grabbing at his toys I hung on his car seat.
~ air conditioning in the heat along with cold water.
~ fresh squash, tomatoes, watermelon and cantaloupe we've bought and been given. That's one of my favorite parts of summer!
~ friends who call randomly to check on me.
Have a day of blessings!