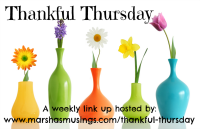 It has been a very wet week here. There was lots of flooding around us. The water has filled up the lakes after a very long drought.
This week I am thankful for...
~ having an attentive husband who loves and appreciates me.
~ my big boy being so helpful and loving to his little brother. I was feeding Titus and sat him up on my lap when he was done eating. I heard him making some noises and looked down and found a big "surprise" oozing out of his diaper onto my lap. Caleb ran to my aide. We got Titus partially wiped off and Caleb moved him to a changing pad while I went to the bathroom to change. I called out and asked Caleb if Titus was okay, and Caleb said he's fine. I came back to the living room to find Caleb kneeling beside a freshly diapered Titus. Caleb had changed him on his own. I told him that about made me cry, such a sweet thing for him to do. He's changed Titus before, just not a dirty one. Caleb said he wanted to surprise me. It was so sweet and a memory I definitely want to remember.
~ all the smiles we get from sweet baby boy Titus. He is so sweet and makes the cutest sounds to talk to us.
~ safety for friends and family during the flooding.
~ a fun 4th with my boys and also that we got to see family over the weekend.
~ working on birthday plans this week with my big boy! He has been working on the invitation. His birthday is in August. He always chooses a theme for the party. This year is outdoors/hunting/fishing. He always comes up with cute ideas.
Have a day of blessings!