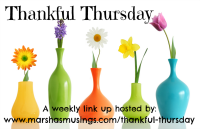 How is it the beginning of July already? Summer is going so fast, it will be "back to school" time before too long.
Here is my thankful list for this week...
~ my husband having a day off of work on Friday. We have a lot to do at home, and I'm glad he can be here. I had forgotten he was off so it was a fun surprise!
~ my boy having fun at my Mom's house. He helped them tear down their old porch and start rebuilding it, which he really enjoyed. He trimmed some branches away from the roof which he thought was fun. They roasted marshmallows too and went swimming.
~ the smiles of others when they see our baby boy. Everyone says what a cute baby he is and how much hair he has. He brings many smiles to others.
~ being able to take naps when Titus does. Some days I feel so tired and am glad I have been able to rest. I get grouchy without sleep!
~ reading time while I feed Titus. I will post a review soon of
A Worthy Pursuit
by Karen Witemeyer.
~ enjoying the days of summer. I love being home with my boys.
Have a day of blessings!