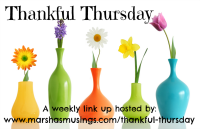 It's been a fun few days here! I'm feeling thankful for so many things. What's on your thankful list?
~ having a good trip traveling with my husband when he had to go to a conference. It was a nice trip and to be able to be away for a little bit. It was a learning experience for us as Titus' first longer trip. We discovered some things we'd do different next time.
~ my big boy enjoying a fun time at STEAM camp this week. He has done all sorts of things including taking a computer apart, used some power tools, and tried on a hazmat suit.
~ my growing baby boy. He had his check up this week. He's gained 3 pounds and 3 inches since his 2 week check up. The doctor commented on how well he was holding up his head and the other things we told her he is doing.
~ enjoying the sights and sounds of the ocean. We went for just a short time one evening while on our trip, and it was so nice.
~ my Mom coming this week. I'd asked her if she'd be able to come on the day Titus went to the doctor because he was getting his shots and I was nervous about how he'd react. She did so much to help us while she was here. I had done some laundry from our trip on Monday but she did the rest and ironed. Then she went to the store and got a few things we needed. Then she and Caleb made us supper. The next day she worked more and also had us a supper in the crock pot. I enjoyed her visit and company.
~ a fun day with my sister in law and nieces. We had lunch, went to the park, and got snow cones. The girls were so cute with baby Titus. It was so fun to see them, and I was so glad they came.
Have a day of blessings!