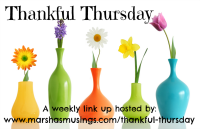 ~ my husband helping with the baby. He always gets up in the night when I need him and does whatever help I need.
~ my boy having fun swimming. He has gotten so confident in the water after swim lessons. I remember when he was younger when he did not enjoy the water. It was fun to see him swim across the pool today.
~ seeing my baby boy getting bigger. I'm thankful he's growing! He goes for his two month check up next week along with shots so say a prayer for him and me!
~ my Dad and the role he has played in my life. I've heard of so many in recent years who have lost their Dads.
~ eating out with our church family. Each month they pick a Monday night to eat out. A different restaurant is chosen each month. We were able to go this week and enjoyed going. It was also the week for the fellowship lunch after services Sunday which is always good.
~ rainy days and seeing lakes filling up that had been so empty and dry.
Have a day of blessings!