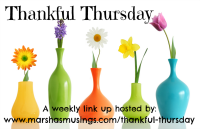 This week has been busy with end of school year activities and a post-partum appointment.
This week I'm thankful for...
~ celebrating 14 years of marriage with my wonderful husband.
~ the great year my big boy has had in 5th grade. I'm emotional about him moving on to junior high. Time has gone so fast, and he's had a great three years at this campus. I guess the next three will go fast too, and he will be in high school!
~ baby boy getting to meet the doctor we had hoped would deliver him. It was a special moment for me and provided some closure after seeing her for 9 months and then having a different situation than we planned when he was born. We are so glad he arrived safely and is doing well.
~ my doctor. When I saw her this week, something she said reminded me how thankful I am for her. She nearly had to do a hysterectomy when she delivered Caleb, and at that moment as I looked at Titus I remembered again how thankful I am that she used her wisdom that day and didn't have to do a hysterectomy.
~ pretty flowers. My boys brought me sunflowers, and my Mom cut some flowers from her garden. I should have taken a picture but didn't think of it. We are enjoying them on our counter.
~ being able to celebrate the end of 5th grade with my boy. We are so proud of him and his accomplishments. I'm glad we can attend his events this week.
Have a day of blessings!