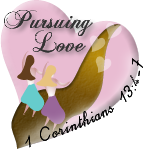 This week our theme for Pursuing Love over at
Marsha's Musings
is anger.
We find many verses and warnings in the Bible regarding anger. One that comes to mind is
Ephesians 4:26, 27
--
"In your anger do not sin": Do not let the sun go down while you are still
angry, and do not give the devil a foothold.
If we hold onto our anger overnight without settling the matter or if we sin in our anger, we are going to give the devil a little door into our heart. This verse is great advice, especially for married couples. I remember at our wedding rehearsal dinner the preacher asked if anyone would like to share advice. One lady said not to go to bed mad at each other. That is such a good practice.
I'd like to share these great questions also that Marsha posted on her post because they are really good to think about and consider our actions.


Do you have the kind of love that overlooks offenses, or do you get easily irritated when your rights are violated?
Do you fly off the handle and blow up easily, or do you have the kind of love that is unchanged by circumstances?
Are you easily upset by unpleasant circumstances that are beyond your
ability to control or change?
Do you cast blame, when in reality you are simply being touchy or thin-skinned?

I don't get mad very easily. There are a few things that "push my buttons," but for the most part I overlook offenses. As I was reading these questions I thought about my Mom. She is a school secretary. Many times she's shared stories of angry parents screaming at her over the phone or in her office. Other school personnel have commented on her calm demeanor in handling the situations. I think this is a very admirable trait to have.
I've enjoyed this study about the qualities of love. If I have Christ's love I won't be easily angered.

Have a day of blessings!