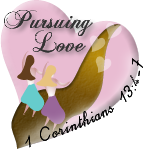 I enjoyed reading the posts shared last week in our first week of "Pursuing Love." This week's topic is Love is Kind. We'd be glad to have you join us over at
Marsha's Musings
. Click the above link for more information.
"It's nice to be important, but it's more important to be nice." ~Author Unknown
"Kindness is the language which the deaf can hear and the blind can see." ~Mark Twain
"Kindness, like a boomerang, always returns." ~Author Unknown
The
definition
of kindness is "compassion, generosity" while the opposite is "cruelty, harshness, meanness." We sometimes hear about "random acts of kindness" in which someone does something kind anonymously for another. Kindness is another one of the
fruits
that will be growing in us when we have the Spirit living in us. There are all different ways to show kindness to others. It can be a kind action or kind word spoken.
One of Marsha's questions that I particularly noticed today was are you kind in your own home? Our family lesson last week was on kindness so we talked about how we can be kind to each other in our home and at school or work. This has made me think about what we each can do to show kindness to each other. I've heard before of how people are always doing for others and yet not doing for those in their own home. I think we need to be careful that we find ways to be kind to each other. One way to do this is to learn each person's love language and then act on that love language and start speaking those languages to each other to show them kindness. It might be an action you perform, like cleaning up a mess for them, or some simple words of praise and love.
Something that comes to mind that my husband does for me is put up the dishes. He helps clear the table after we eat every night and I'll wash the dishes. Some nights he will put the dishes away too. Sometimes he does it while I'm washing and we'll talk or some nights he does it later. It is always nice to have them put away and not have to do that myself. That is something so simple yet it is such a kind thing for him to do for me.
"Therefore, as God's chosen people, holy and dearly loved, clothe yourselves with compassion, kindness, humility, gentleness and patience." Colossians 3:12
I posted a song called "Love Never Fails" on yesterday's post that goes along with our pursuit of love.
Have a day of blessings!