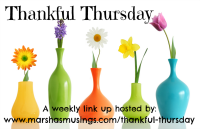 There has been both happy and sad news today, and my heart and mind has been filled with thoughts and prayers for friends and family.
Today I am thankful for...
~ my sweet husband bringing home supper and stopping for a s'mores pizza too.
~ my big boy learning new things in preathletics and band. He shows me what he is learning after school and is enjoying it.
~ my baby boy making his happy noises and squeals. He's so fun! Oh we love him so much!
~ finishing a great audio book. My review is coming soon.
~ going to "meet the teacher" night. It was nice to see the classrooms and put faces with names.
~ fun weekend with family. Friday night we watched a fun football game that went into triple overtime (we ended up losing). Then Saturday I appreciated my Mom's help with laundry and ironing. And I got a nap! She also got the letters hung in Titus' room. I want to do a post about that sometime soon too.
Have a day of blessings!