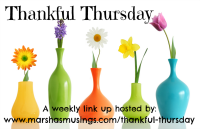 We have had an enjoyable first week of summer vacation. I've so enjoyed having my boy home from school. We are so proud of him and the great year he had in 5th grade. He did well academically and also had many responsibilities through the year.
This week I'm thankful for...
~ my husband working to provide for us and that I'm able to stay home.
~ all the help my boy gave while we went grocery shopping this week. He pushed his baby brother in the stroller and loaded and unloaded the groceries plus put most of them away when we got home while I fed Titus. (We went because I needed to see if I could make it through a shopping trip now as I've not been since before Titus was born. And we made it but I was sore.)
~ Tomorrow will be two months since our baby boy was born. He is such a blessing! It's so fun to watch him change and grow. I'm thankful he is healthy and growing, it just goes so very fast though. We sort of have a routine now, and he loves having Caleb home. The other morning his face lit up with a big smile when he saw his big brother. It was the sweetest thing.
~ meals in the crock pot with enough for leftovers.
~ watching old shows online with my boy. I showed him $100,00 Pyramid and Webster. It was fun to watch them together and hear his laugh.
~ wonderful message last Sunday at church on Phillipians 4:8---What are you thinking about?
Have a day of blessings!