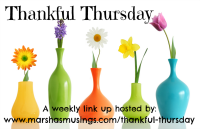 It is a chilly, rainy Thursday here. The temperature was 52 degrees and felt quite different than the past few days.
What are you thankful for today? Join us at
Marsha's Musings
for Thankful Thursday!
This week I am thankful for...
~ my husband making our bed each morning. Now I know this may seem silly, but the past few weeks I've noticed that our bed is perfectly made each morning. Titus usually eats at 5:30 or 6, and I hold him on the couch as he goes back to sleep and some mornings I fall back asleep there too so I'm up before my husband. I wrote him a note the other day that I appreciated the bed being made each day because it was one "constant" in my day right now. It feels like the other parts of my day are different each day (times of breakfast and lunch, getting a shower or not, etc.), and we aren't on a particular schedule. So it feels good that the bed being made is one thing that is the same each day. Kinda silly I guess but I'm thankful for that simple act. He said he didn't even think of it, he just is in the habit of doing it.
~ sweet note my big boy left for me on my mirror. I had left him one on his mirror earlier this week. He surprised me by leaving one on my mirror too. It was so sweet and heartfelt and made me smile.
~ sweet smiles from my baby boy. Oh how I love when he smiles up at me! One morning I said, "good morning, are you ready to eat?" as I picked him up, and he gave me a big smile. His smile made me feel like seeing the note from my big boy made me feel.
~ resting when I need to as I continue to recover. Some people are surprised I'm not back to 100% yet, but I'm just not. My incision is still healing. I can tell I have made progress each week and things are much easier. But I can also tell that I'm still healing and am still sore across my belly if I do too much. Bending, being in the car, and walking far distances are what I notice causing the most soreness. So I'm glad I can rest as I need to and have the help of my boys to do things at home.
~ audio books to listen to while I feed the baby. I'm listening to
Nobody's Cuter Than You
by Melanie Shankle now.
~ going to the school to watch our boy's presentation. His reading class did novel projects and today was the day they presented. It was fun to see and all the groups did a great job. We could tell they enjoyed their books and had fun sharing about them.
Have a day of blessings!