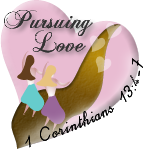 This week in our Pursuit of Love over at Marsha's Musings the topic is "The 'I' in Pride."
I've been thinking about what to type in this post all week. I've looked over the questions and tried to think of personal examples of pride. I think it is something I need to work on in certain areas of my own life. One thing that came to mind is working in groups. Sometimes it's hard, depending on the group and the project, to say "okay do it your way" because I like my own idea better.
I think it's okay to be confident. God wants us to be confident in the abilities and talents He gave to us. But I don't think we need to turn this confidence into an "I'm better than you" attitude.
Pride can cause many problems in relationships. Many times our own pride keeps us from admitting we are wrong and apologizing. This leaves painful marks on relationships, causing them not to be healthy.

We are warned many times in Scripture about pride. Pride says me, me, me. Pride says look at me, look what I did. Pride says you have to do it my way. Pride says I'm the best. Pride seeks the glory. Pride is selfish.
Love is none of those things. It is just the opposite. If we are truly loving then these prideful attitudes won't be in our hearts.
Have a day of blessings!