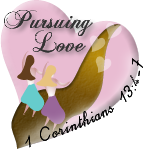 Part of I Corinthians 13:5 says, "Love is not rude." This week as we are
Pursuing Love
we are asking ourselves are we rude or courteous.
"Do unto others" is a good way to live life. But do we really follow this in our thoughts and actions? When I face a rude waitress or clerk at a store, I often think, "why do they have to be rude to me? What did I do?" And then I want to be rude back to them. This is not what my response should be though. I need to stop and consider their life and remind myself that I don't know the road they are walking. While we like to think there isn't an excuse for rudeness, there are probably contributing circumstances that we don't know about causing the rude behavior in the first place. Maybe they just got some really bad news and would rather be home with their family. Maybe they have been on their feet all day, working multiple jobs to try to provide for their children. Maybe they are sick and don't have the option of using a "sick day." Maybe they don't even know the love of Jesus. We just don't know.
This is something God has shown me over and over in various ways this week in things I've read and heard. I need to be looking at others through His eyes. He shows us grace and love over and over. Every time we mess up, He is there and still loves us. This is what I need to do for people in my life, both my family as well as strangers.
Have a day of blessings!