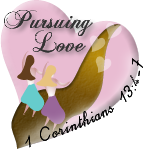 This week in Pursuing Love we are looking at bragging and arrogance, two more things love is NOT.
Marsha shared this: Last week we looked at jealousy and wanting what someone else has. This week we're looking at the unloving twins – bragging (boasting) and arrogance, or trying to make others jealous of what we have. While jealousy puts people down, bragging and arrogance puts ourselves up much higher than we desire.

Personally I do not like being around people that are constantly bragging or arrogant. It seems there is at least one in every bunch, as they say. Online there have been people that seem to have to constantly "one up" anything you say about your life, kids, or family. I remember certain people through school who had a certain arrogance about them and seem to continue to portray this attitude to others. These type of people are so full of themselves and their accomplishments that they make you seem insignificant. No one wants to feel like a nobody!

Thinking about myself, I don't like to tell people what I've done. There are certain accomplishments that I haven't told people in my life because I don't want it to seem I'm bragging about them. (Even typing that sentence makes me feel like I should delete it because I don't want to be boasting in myself!) But even though I don't like to say it, I do admit that sometimes I think to myself an "I'm better at...." attitude. God wants me not to be judgemental though but instead to see everyone through His eyes.
Thinking about this I think it's important to point out that God does want us to be proud of who we are in Him, but we don't need to be haughty in our pride. Maybe confident is a better word for that.

Have a day of blessings!